It seems to be a tradition when we organize the Team Kahshe Lake Ride that good ole Mother Nature toys with us with warm weather before the ride and
then delivers us snow and cold weather the weekend of the ride.
This year was NO different, when I arrived at Dennes Marina to drop the Viper Mobile the temp was -33
HOLY CRAP it was cold......So after some fumbling around and allot of trips to the truck to get warmed up I was finally able to call the House of Mouse.
This time I was travelling alone as good ole Crackho blew his knee out so I wanted STG to know an expected ETA so he could send help if needed, safety first right...
Of course STG's response to me was "if ya have troubles call CAA cause it's too dam cold out there for me to come and get you"
It was a nice rip across the lake albeit a cold one and upon arrival at the Brand New House of Mouse I see Uncle STG in his new basement sitting at his registration desk..
As expected there are no hello's, how was the trip across the lake by yourself, are you ok etc, oh nooooooo it's "Ya got 50 bucks?"
BTW I think you should raise the ceiling of your "Crawl Space" STG it is way too tight in there...
Not too long after my arrival the gang all started coming in one by one and after some hello's and chit chat it's time to saddle up and hit the trails.
First half of our group
The back half of our group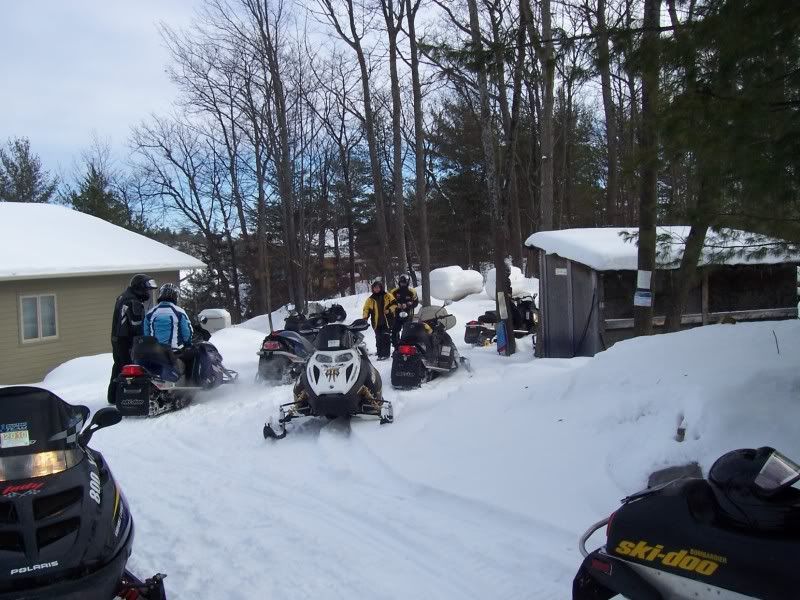 As we arrived in Gravenhurst one of our group had an uncontrollable urge to use the facilities so this became our first pit stop.
A second member of our group decided it was time to relieve himself in the middle tree in the pic below (I will not name names) but we sure had a good laugh, so did the group beside us...
While we were waiting for our two members to do their thing three of the oddest Mini Planes flew over our heads and decided to land on the lake, to me they looked like they were crashing.
I took a shot of one but I was way too late to get the camera out so it's pretty far away, look just above the black helmet
Now before I continue on with our story I want to mention something that happened with a certain STOP OFFICER, the below is my personal opinion.
I was NOT even going to mention this however I am actually hoping that he reads this and or for that matter any other STOP Officer's as this could have easily happened to newbie's to our sport.
The guy that stopped us must have had his shreddies pooped in that morning cause he was a dick, he even said so himself.
IMHO he should be representing our sport rather than using and ABUSING his authority
Now I know that you STOP guys must deal with allot of a$$hats who think that simply doing your job is a real burden to them but would it kill you guys to try and be pleasant?
I mean come on guys your on your sleds doing what I assume you love to do, how about showing some ambassadorship like the Trail Patrol does?
We get enough bad press as it is about our sport so I would expect those that are out there would at the very least try and have a positive attitude despite the 2-4% a$$hats that you encounter.
Viper Rant over......
After our unfortunate incident and our "rest" stop for the crew we continued with our ride to our favourite lunch spot, Silver Pines.
Man oh man do they have good fish & chips, yum yum, thanks for having our table ready folks we appreciate it!
After lunch we stopped for a group photo....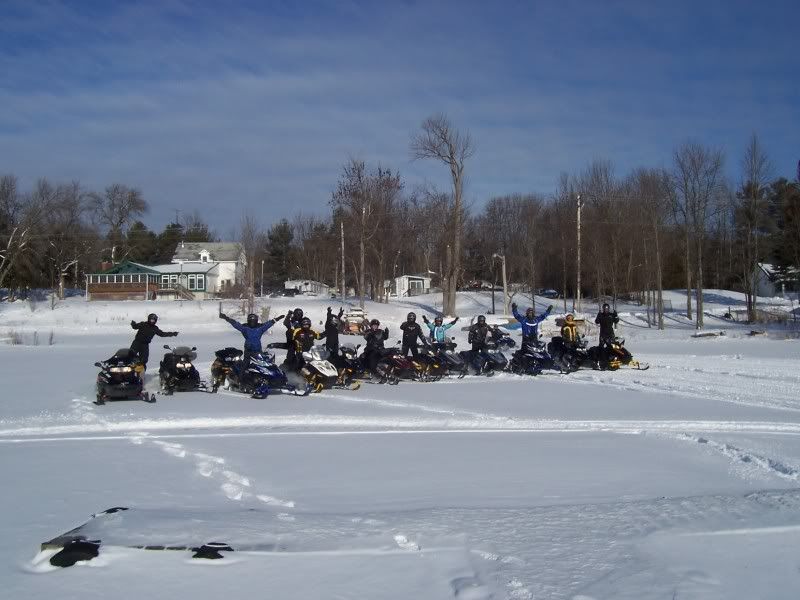 Sorry folks after the lunch stop I put the camera away and just enjoyed the rest of the ride....
After a quick pit stop at STG's to confirm numbers we ran the lake over to our host's the Dove's for the big Chilli Fest..
I would like to thank the Dove's for once again hosting us and also congratulate John on his retirement
Once again John Dove was our Grand Prize winner of a trip for Two to Owls Nest Lodge,
THANK YOU OWL's NEST...
Congrats Nancy Cronin for winning the Ladies Leather Gloves,
THANK YOU CHOKO
Last but certainly not least congrats Mathew Dove on winning the Mens Leather Gloves,
again THANK YOU CHOKO
This was the 5th Annual Kahshe Lake Ride and every year they just seem to get better!
Team Kahshe Lake raised $3902.00 in just under Two Weeks notice and my hat is off to you all.
You folks mean the world to us here at PET and we thank you for your all your efforts.
I am already looking forward to next year!
Viper AKA Steve